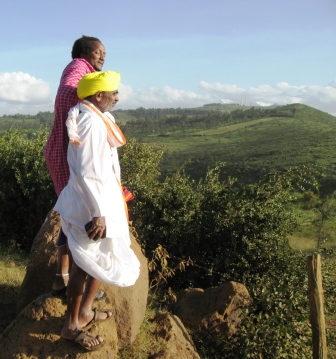 The future of livestock keeping will have to revolve around finding a balance between economy and ecology. Economically it might make sense to crowd huge numbers of animals in small spaces and automate their feeding and management but this runs counter to all ecological principles: it requires huge amounts of fossil fuels (to grow and transport feed, to climatize stables), it results in accumulations of manure that become difficult or impossible to dispose of (turning dung from a much sought after asset into a liability and threat to the environment), it raises disease pressure (so that routine use of antibiotics becomes essential), and it is problematic from the animal welfare angle. It's also not good for livelihoods – studies from various countries where the Livestock Revolution has taken hold testify that it results in depopulated rural areas.
Ecologically, decentralised models of livestock keeping as epitomized by pastoralists are much more preferable. They are based on the optimal utilization of locally available biomass and independent of fossil fuels, manure recycling is integrated into the system, disease pressure is small, and animal welfare is almost solved optimally. So why not support these, if we are concerned about the sustainability of the livestock sector?
"But young people don't want to do this work and prefer to live in the cities" is the argument that is always raised when one suggests that small-scale livestock keeping may be an answer to the sustainability question. There is certainly some truth in it. Many young people are attracted by the urban life, and – by all means – they should be given a chance to go for it. But there are also many youths who find a life taking care of animals preferable to slogging away at menial jobs and a life in slums. So why not encourage these young people, by giving them respect and support, instead of branding them as backward? By directing subsidies towards these ecological livestock production systems instead of the industrialised ones? By building another livestock development paradigm that takes into account the ecological externalities, instead of always comparing the milk yields of the Indian cow with the Israeli cow and automatically concluding that the second one is so much superior?
According to a remarkable presentation by ILRI's director Jimmy Smith during the third Multi-stakeholder platform meeting of the Global Agenda of Action towards sustainable livestock sector development (GAA), 80% of livestock derived food is still contributed by small producers. If we focus on raising the performance of these systems – for instance through adequate animal health care – and providing incentives for the young generation, then we can solve the livestock sector sustainability question. And we will help address another burning issue – the high unemployment rates that bedevil not only developing countries, but also Europe and the USA – as well.