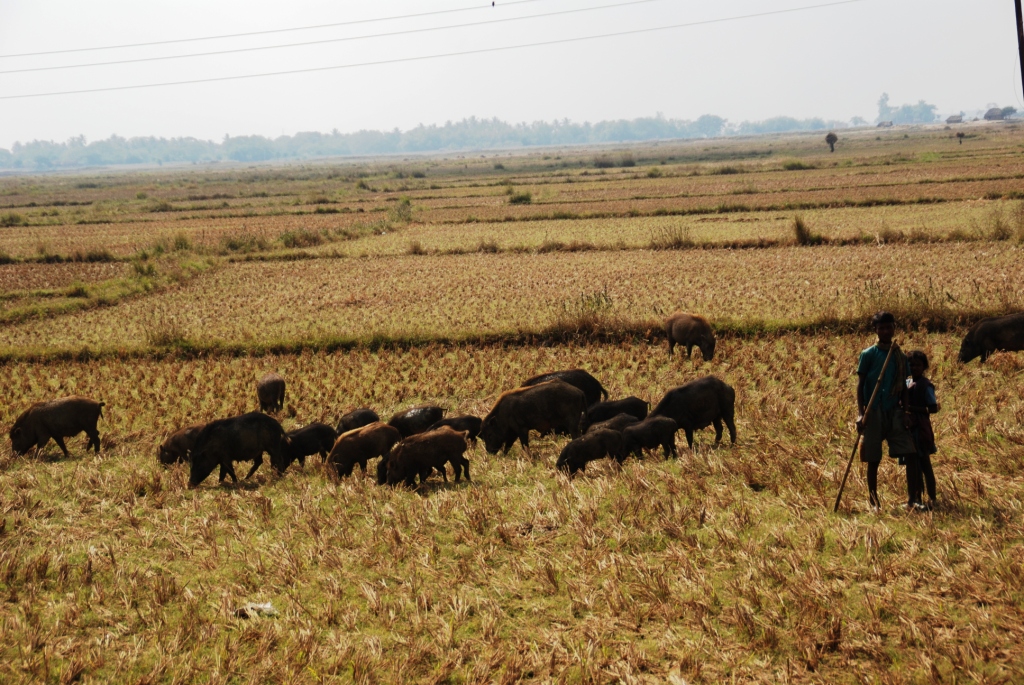 To increase diversity, I have asked Dr. Balaram Sahu of the Innovate Orissa Initiative to write a guest blog about the role of Odisha's pig nomads in food security. Dr. Balaram is a veterinarian, but also an author, poet and film maker. He has made a lovely film about the Chillika buffalo ("Night queen of Chillika") that forages in the Chillika lake during the night. He has also written a book in his native language about "Ten days in a German village" that describes his experiences in Wembach, my native village in Germany. And he is the founder of the "Pathe Paathshaalaa", the road side university for livestock keepers. So here is Dr. Balaram Sahu:

It was midday of a cool March, when we were about to reach Rajnagar, a sleepy town in Kendrapara district of my state Odisha, India. Dr Ilse Köhler- Rollefson, the guest and visiting professor of our moving road side university "Pathe Paathshaalaa" requested our driver to slow down the vehicle. On that point of time, I was eagerly waiting to reach the nearest Dangmal Forest Guest House and to have our lunch in the lap of nature. This guest house of Forest Department is situated in the mangrove forests of the world famous Bhitarkanika Crocodile Sanctuary called, near the sea. "What happened?" was my natural reaction when the vehicle was slowed down to a complete halt. Dr Ilse pointed out a group of nomadic pastoralists grazing their pigs in the mid of a recently harvested paddy field. Her face was brimming with joy and alacrity. A known person of mine was seen in the vicinity, which helped us to go in to the already-harvested paddy field. We met the group of pig pastoralists including some men, women and children, even a lady pastoralist with her small baby in lap. All were on the move, grazing their pigs. Pigs were seen picking up left out grains, regenerated leaves from paddy stumps and roots of local variety of grass, making  peculiar sounds, as if celebrating a much awaited feast. The sight was the reality of pastoralism in rural India, where the humans, animals, souls, spirits and the biodiversity remain in convergence and peaceful situation!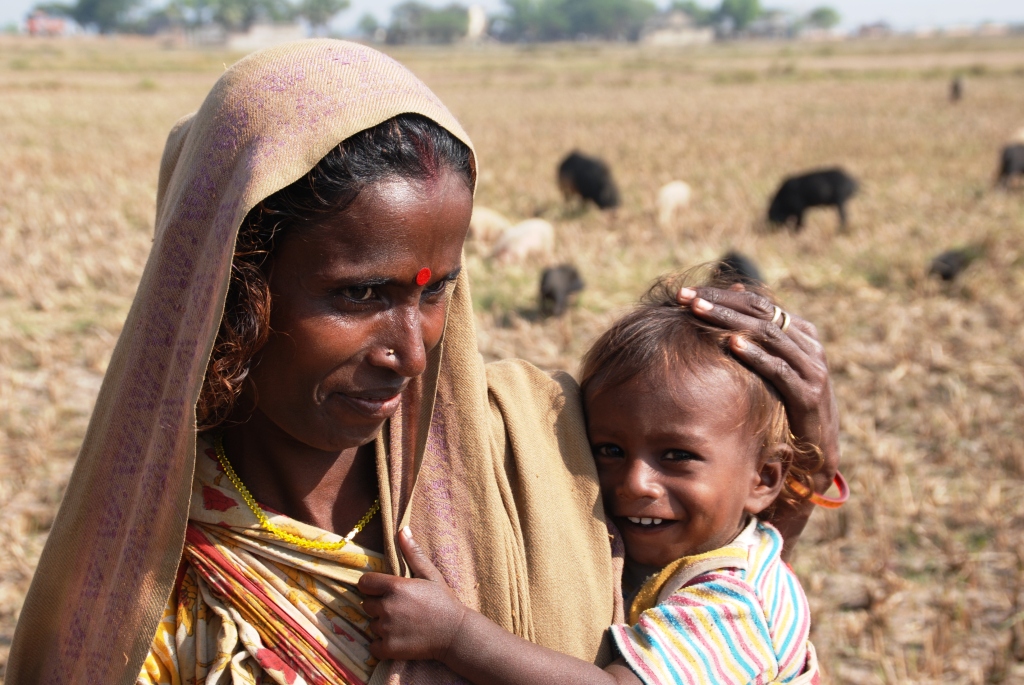 We conducted our "Pathe Paathshaalaa" with the pig pastoralists, in the open paddy field, under the blue sky. It was a unique class of chatting, sharing and discussing. The topics ranged from their life of happiness with animals to the problems faced. The group belonged to the Kela community, who graze native breed of pigs (Swara/Kuji) since time immemorial. Haladhar Das, head of the group, shared his experiences of nomadic pig rearing and described the many challenges. The constant new places, new people, and new environments. Side by side they have to carry their family members also. But they overcome all odds, for the benefit of their animals. Their pigs are disease resistant and need no special feed to be bought. Instead they use all the resources that are not fit for human consumption. "They demand nothing from us and are our food baskets, protein pots and running bank accounts" said Haladhar Das. "There is lots of demand for pork by the local people, and even traders from neighboring states like West Bengal and Andhra Pradesh want to buy from us", added Baidhar Das, another member of the group with pride and content.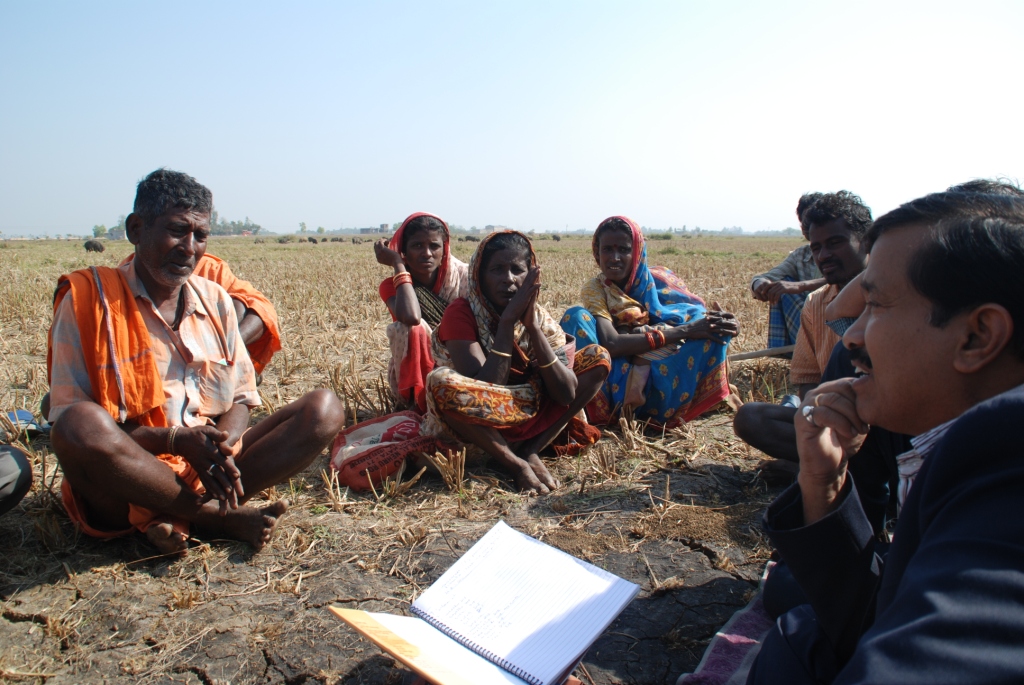 In our Paathshaalaa, we gave them small tips on low external input based skills like preparation of safe drinking water for them from local ponds, by adding matured and dried seeds of drumsticks (Moringa oleifera) overnight to the water pots, vaccination against pasteurellosis in local veterinary institutions and preparation of special tonic in case of anorexia of their animals. In turn the enthusiastic pastoralists shared some of their traditional knowledge with us. Their knowledge, although are already in public domain, enriched our "Pathe Paathshaalaa" for diffusing to pig pastoralists in other parts of the world.
It was half past two, when we had to say good bye. The pastoralists, that were initially  reluctant had become our friends and seemed emotional while bidding farewell. Dr Ilse was visibly moved by the nomads who could not speak to her directly in words but certainly by the rhythm of their hearts. The pulsation of dedication, belongingness to the nature was palpable.
In this "Pathe Paathshaalaa" we got once more convinced about the importance of these indigenous systems for food security and for providing the basic needs of rual people, even in the case of climate change.