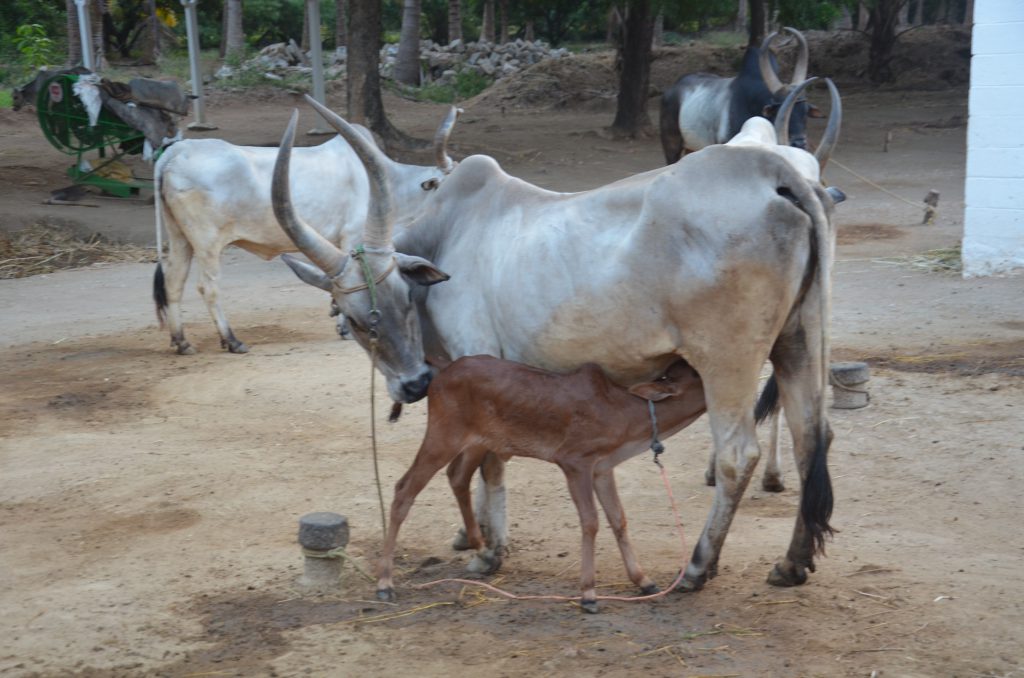 India is famous for its veneration of the cow as Gau-mata (although with the recent rise of Gau-Rakshaks, self-appointed cow protectors, it is also in danger of becoming somewhat infamous in this respect). That is also has a very ancient bull-culture is much less known. The last couple of days I have been spending in bull country, in Tamil Nadu, surrounded by passionate supporters of  Jallikattu, the Indian response to bull-fighting as practiced in Spain, but which is more correctly described as "bull-embracing". Its a practice that dates back to the Indus Valley Civilization, some 4000 years ago, as indicated by ancient seals showing bulls that throw people into the air.  Jallikattu is entirely different from the Spanish version. Basically, village boys attempt to embrace the hump of a bull during a 15 m run. If they manage to do this, they are given a reward by the bull owner who gains prestige from having a bull too ferocious to allow this to happen. The sport was and is enormously popular, and the bull is never harmed, in fact if just one drop of blood the event is immediately stopped.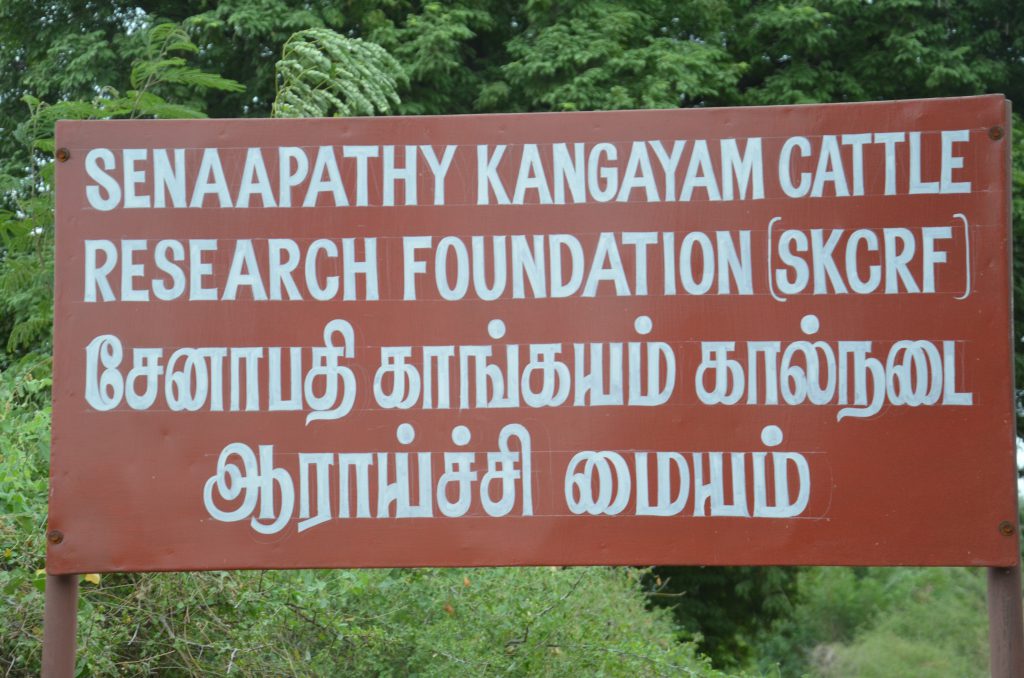 I am staying once again  at the Senaapathy Kangayam Cattle Research Foundation (SKCRF) in Kuttapalayam in Erode helping them to put together a Biocultural Protocol for the Kangayam cattle breed. The Kangayam cattle, a medium sized draught breed usually of white or grey colour, once was – and continues to be to an extent – the backbone of the local agro-ecology. Every farming family owned a pair of them for ploughing, pulling water, hauling the harvest, and powering carts for personal transportation. This cattle was raised on privately owned pastureland, the Korangadu, a very bio-diverse and extremely drought resistant sylvo-pastoral system. The Kangayam cattle was also essential for rituals and in religious life. Each village had a temple bull that provided free stud services. During Pongal, a Tamil harvest festival, the cattle was elaborately decorated and, on other occasions, bullock cart races known as Rekhla provided entertainment to and prestige to the owners of the winning bullock pairs.
But, like many local livestock breeds, the Kangayam cattle is now under threat, due to a number of factors such as a change in the farming system, availability of motorized transport, and the loss of Korangadu pastureland, mostly due to its high  real estate value.
The SKCRF is at the forefront of conserving the breed, keeping a herd of about 40 animals, educating farmers about the use of organic manure, organising competitions and fairs, and raising awareness of students and the general public about the Kangayam cattle. Sadly there is practically no government support for these efforts, even though India is a signatory to the Interlaken Declaration and the Global Plan of Action on Animal Genetic Resources.  While the country can boast a well-staffed and well-funded National Bureau of Animal Genetic Resources,  this institute is oriented at research rather than practical conservation. And although there are various government conservation programmes with huge budgets they do not benefit the people at the grassroots who actively conserve by looking after livestock even if it is unprofitable.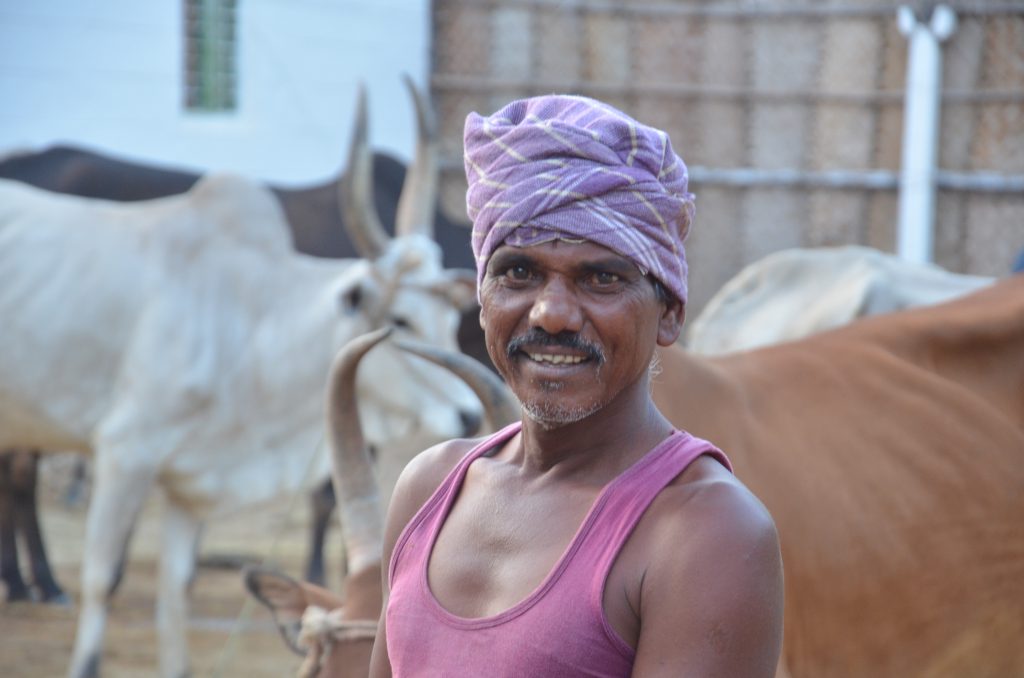 Furthermore, there seems to be no awareness among decision makers that indigenous breeds cannot be dissociated from their respective agro-ecosystems, in this case the Korangadu pastureland, and neither can be conserved without the other.
But the biggest ire of the cattle aficionados I met is the ban on jallikattu and rekhla precipitated by the animal welfare movement that has pronounced these traditional "biocultural" sports as cruel to animals. This means that one of the last remaining incentives of breeding Kangayam cattle has evaporated and that there is harly any utility for male animals besides slaughter. The ban has had enormous repercussions on the rural economy, as was explained to me in detail by Mr. Balaram Sonu, a photographer, animal lover, and author of the book Cursed Heaven  that develops a conspiracy theory for the motivation of the animal welfare people against jallikattu.
The legal tussle around the ban on cattle sports is on-going and I don't want to go into the political ramifications. But I was told that about 90% of Tamilians are in favour of retaining these sports. Certainly they play a huge role on the conservation of India's indigenous cattle breeds, and should there be any harm to animals involved, then they should be regulated, rather than banned.
On 18th of September, the SKCRF and Kangayam cattle breeders are hosting a huge cattle show in Erode. Besides the wonderful cattle, you will be able to encounter the famous singer Hiphop Tamizha who will be honoured by the organizersfor his music video Takkaru Takkaru in support of Jallikattu that has garnered 2.7 million hits on Youtube. ENJOY!